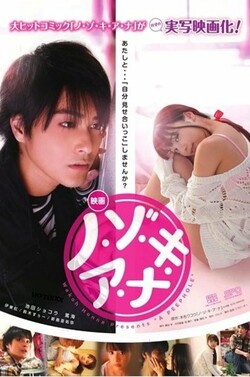 File info:
Categories: Pinku Romance TV-Series
Runtime: 8 episodes ~00;50;00 [6h.,35min.,39sec.]
Countries: Japan
Languages: Japanese
Subtitles EMBEDDED: ENGLISH (!!! only in episodes: 1,2,3,4,5.)
Directors: Kensuke Hata, Nakaba Ueda
Cast: Chocolat Ikeda, Atsumi Kanno, Beni Ito
Tatsuhiko Kido, an Art school student who's staying in his apartment, one day discovers a hole in the wall of his apartment room. He peeks through the hole, but when he does so, he sees his neighbor, Ikuno Emiru, changing her dress and he's caught peeking.. later on she tries to blackmail him into peeping each other every alternate day.
Video: HDTVRip, MKV, AVC, H.264, 720x400, 1010 kb/s
Audio: AAC, 2 ch, 128 kb/s
Size: 3,11 GB
Free DownloaD Links
| FILEBOOM.ME | FILE.AL |
Free DownloaD Links II
| FILEBOOM.ME | FILE.AL |

«|» ErOtIc PlEaSuRe «|» ErOtIc CiNeMa «|» ErOtIc PaLaCe «|» AnOtHeR cInEmA «|»