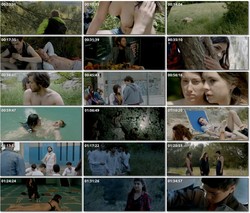 File info:
Categories: Explicit Erotic Fantasy Drama
Runtime: 01;42;00
Countries: France
Languages (2 audio tracks): 1. Russian (VO) | 2. French
Subtitles EMBEDDED: ENGLISH / NETHERLANDISH / RUSSIAN
MOVIE TRAILER: Metamorphoses (2014)
Directors: Christophe Honore
Cast: Matthis Lebrun, Samantha Avrillaud, Amira Akili
When Europa skips class and meets a magnetic young man named Jupiter, she embarks on a journey of which she knows little as to what lies ahead. Travelling aboard Jupiter's eight-wheel truck, they arrive in a mythical land inhabited by powerful gods who can transform humans into plants or animals in the blink of an eye. Europa watches, listens, and plays in their immortal home, becoming acquainted with Jupiter's friends, Bacchus and Orpheus. As the confrontation between seductive, yet vengeful gods and innocent mortals unfolds, Europa grasps a greater sense of life and love in this revelatory modern-day retelling of Ovid's "Metamorphoses."
Video: DVDRip, MKV, AVC, H.264, 720x304, 1016 kb/s
Audio (2 audio tracks): 1. RU. (AAC, 2 ch, 128 kb/s) | 2. FR. (AAC, 2 ch, 128 kb/s)
Size: 919 MB
Free DownloaD Links
| FILEBOOM.ME | FILE.AL |
Free DownloaD Links II
| FILEBOOM.ME | FILE.AL |

«|» ErOtIc PlEaSuRe «|» ErOtIc CiNeMa «|» ErOtIc PaLaCe «|» AnOtHeR cInEmA «|»