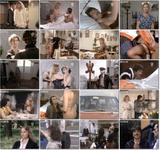 File info:
Categories: Explicit Erotic Comedy
Runtime: 01;23;00
Countries: Italia
Languages: Italian
Directors: Bruno Gaburro, Lorenzo Onorati (as Lawrence Webber)
Cast: Marina Hedman, Enzo Pulcrano, Laura Levi
The truck driver Antonio strikes a deal with the mother superior of a religious institute: marry the student Olivia, and in return he will be able to buy an inn owned by the nuns. Olivia unbeknownst to her husband, is not slow to sell her favors in order to raise the money necessary for the purchase, thus realizing Antonios dream. After he acquires ownership of a restaurant, he leaves his wife to manage it. The number of customers soon multiplied, thanks to the generous talents of the woman. When he returns, though, she is smart enough not to let him guess anything.
Video: TVRip, MKV, AVC, H.264, 640x480, 1009 kb/s
Audio: AAC, 2 ch, 128 kb/s
Size: 670 MB
Free DownloaD Links
| KEEP2SHARE.CC | FILE.AL |
Free DownloaD Links II
| KEEP2SHARE.CC | FILE.AL |

«|» ErOtIc PlEaSuRe «|» ErOtIc CiNeMa «|» ErOtIc PaLaCe «|» AnOtHeR cInEmA «|»