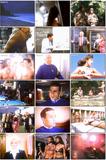 File info:
Categories: Erotic Sci-Fi Comedy
Duration: 01;19;56
Countries: USA
Languages (2 audio tracks): 1. English | 2. Russian (MVO)
Directors: Mike Mendez, Dave Parker
Cast: Ian Abercrombie, Adrienne Barbeau, Michelle Bauer
Hell hath no fury like a bimbo scorned! For decades, the blond and the beautiful have been billboarded, belittled and bad-mouthed. Now, a massive squadron of the lightheaded lovelies is about to exact the ultimate revenge on the chauvinists of the Earth.
Video: VHSRip, MKV, AVC, H.264, 640x480, 1092 kb/s
Audio (2 audio tracks): 1. EN. (AAC, 2 ch, 128 kb/s) | 2. RU. (AAC, 2 ch, 128 kb/s)
Size: 777 MB
Free DownloaD Links II
| KEEP2SHARE.CC | FILE.AL |
Free DownloaD Links III
| KEEP2SHARE.CC | FILE.AL |

«|» ErOtIc PlEaSuRe «|» ErOtIc CiNeMa «|» ErOtIc PaLaCe «|» AnOtHeR cInEmA «|»