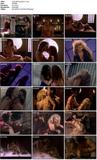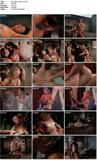 File info:
Categories: Explicit Erotic Sci-Fi
Runtime: 1. [01;26;20] | 2. [01;23;23]
Countries: USA
Languages: English
Directors: Cybil Richards (as Sybil Richards)
Cast: Elizabeth Kaitan, Taylor St. Clair, Rob Lee, Micky Ray, Lori Morrissey, Ethan Hunt, John Roberts, Brandy Davis
Virtual Encounters 1:
Happy birthday, Amy. Amy's boyfriend Michael gave her the deluxe, super-duper virtual encounter. This is his way of removing her inhibitions and allowing her to fulfill the desires hidden deep inside. He finds he has a real tiger by the tail.
Virtual Encounters 2:
A nerdish computer-type stumbles upon a virtual computer program that puts the viewer right into the experience. His roommate convinces him to use it as a sex-type program and sell folks various sexual "experiences". Meanwhile, the nerd aspires to date a girl he's too shy to approach, and hopes the virtual encounter program will help him out.
Video: 1. [DVDRip, AVI, 640x480, 991 kb/s] | 2. [DVDRip, MKV, H.264, 704x480, 2140 kb/s]
Audio: 1. (MP3, 2 ch, 128 kb/s) | 2. (AC-3, 2 ch, 192 kb/s)
Size: 1. [699 MB] | 2. [1,36 GB]
Free DownloaD Links
| KEEP2SHARE.CC | HITFILE.NET |
Free DownloaD Links II
| KEEP2SHARE.CC | HITFILE.NET |
«|» ErOtIc PlEaSuRe «|» ErOtIc CiNeMa «|» ErOtIc PaLaCe «|» AnOtHeR cInEmA «|»