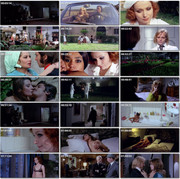 File info:
Categories: Erotic Mystery Thriller
Runtime: 01;34;07
Countries: Italy
Languages (3 audio tracks): 1. Russian (AVO) | 2. English (dubbed) | 3. Italian
Directors: Fernando Di Leo
Cast: Klaus Kinski, Margaret Lee, Rosalba Neri
In a psychiatric clinic for rich women, dies murdered, one after another, a nurse and two patients, while an arrow hit another woman. The guilty is a masked man. The police decide to set up a trap, but the line of murdering isn't still over.
Video: HDRip, AVI, 720x304, 1622 kb/s
Audio: AC-3, 2 ch, 192 kb/s - [1. Russian | 2. English | 3. Italian]
Size: 1,46 GB
Free DownloaD Links
| FILEBOOM.ME | HITFILE.NET |
Free DownloaD Links II
| FILEBOOM.ME | HITFILE.NET |
«|» ErOtIc PaGe «|» ErOtIc BlOg «|» HoTiXxX «|» eRoTiC pLeAsUrE «|»