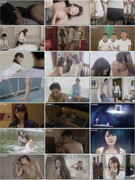 File info:
Categories: Pinku Explicit Erotic Fantasy Romance Comedy
Runtime: 01;57;15
Countries: Japan
Languages :
DOWNLOAD Subtitles: ENGLISH | INDONESIAN
Directors: Yuki Aoyama, Iggy Coen
Cast: Kazue Akita, Yuki Aoyama, Tsunanori Fukushima
Mitsuki and Yuya become stepsister and stepbrother because of their parents marriage. Mitsuki can't get along with her new family and Yuya doesn't know how to approach his new stepsister. One day, Mitsuki becomes possessed by the spirit of Hiyori. Hiyori likes Yuya and believes Yuya can help her get to heaven. Hiyori places a leather chastity belt upon on Mitsuki and a plan takes place to help send Hiyori to heaven.
Video: BDRip, MKV, AVC, H.264, 848x480, 1135 kb/s
Audio: AC-3, 6 ch, 640 kb/s
Size: 1,48 GB
Free DownloaD Links
| FILEBOOM.ME | DEPFILE.US | FILEHASH.CO |
Free DownloaD Links II
| FILEBOOM.ME | DEPFILE.US | FILEHASH.CO |
Free DownloaD Links III
| FILEBOOM.ME | DEPFILE.US | FILEHASH.CO |
«|» ErOtIc PaGe «|» ErOtIc BlOg «|» HoTiXxX «|» eRoTiC pLeAsUrE «|»