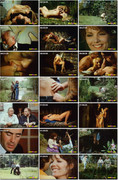 File info:
Categories: Classic All Sex Comedy
Runtime: 01;41;25
Countries: France
Languages: French
Directors: Jean-Marie Pallardy
Cast: Willeke van Ammelrooy, Georges Gueret, Jacques Insermini, Chantal Arandel, Renate Wolke, Joelle Faguet, Jean Claude Strom
Professor Muller is a world-renowned scientist and he's just been awarded the Nobel Prize. But instead of claiming the most prestigious prize in the world he decides to leave his old world behind and wander off into the woods. So as to fully enjoy the pleasures of Nature, he goes to a small village which has become an open-air brothel. But the government sends out agents in order to dismantle the Professor's new activities: a Nobel prize-winning pimp is hardly good news. Professor Muller's son eventually tracks down his dad and attempts to persuade him to give up his pimp life. Meanwhile, a pair of police inspectors has gone undercover to collect enough evidence to shut down the whorehouse.
Video: DVDRip, AVI, 640x416, 745 kb/s
Audio: MP3, 2 ch, 128 kb/s
Size: 640 MB
Free DownloaD Links
| KEEP2SHARE.CC | DEPFILE.US | FILEHASH.CO |

«|» ErOtIc PaGe «|» ErOtIc BlOg «|» HoTiXxX «|» eRoTiC pLeAsUrE «|»