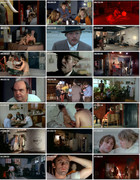 File info:
Categories: Erotic Fantasy Romance Drama
Runtime: 01;53;12
Countries: Italy, France
Languages: English
DOWNLOAD Subtitles: RUSSIAN
DOWNLOAD Subtitles: MISCELLANEOUS (untested on this release)
Directors: Marco Ferreri
Cast: Gerard Depardieu, Marcello Mastroianni, James Coco
Immigrants Luigi and Lafayette work for Andreas Flaxman at his wax museum in Lower Manhattan. Luigi, an asthmatic middle-aged romantic, works as an artist/sculptor while the Lafayette functions as a jack-of-all trades for Flaxman, who is obsessed with Ancient Rome, a preoccupation that most of his exhibits reflect. Lafayette lives in a rat-infested basement some blocks away and carries a whistle with to scare the rodents, which seem to be endemic to the area. He also works as a stagehand for a feminist theater group in their Broadway theater where he suffers their sexist abuses including being forced to wear a leotard. Angelica, one of the beautiful actresses in the troupe is attracted to him, and they begin a relationship...
Video: DVDRip, AVI, 672x368, 1635 kb/s
Audio: AC-3, 2 ch, 192 kb/s
Size: 1,45 GB
Free DownloaD Links
| KEEP2SHARE.CC | DEPFILE.US | FILEHASH.CO |
Free DownloaD Links II
| KEEP2SHARE.CC | DEPFILE.US | FILEHASH.CO |
Free DownloaD Links III
| KEEP2SHARE.CC | DEPFILE.US | FILEHASH.CO |
«|» ErOtIc PaGe «|» ErOtIc BlOg «|» HoTiXxX «|» eRoTiC pLeAsUrE «|»