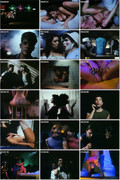 File info:
Categories: Classic, Feature, Straight, Blowjobs, Lesbian
Runtime: 01;13;33
Countries: USA
Languages (2 audio tracks): 1. Russian (AVO) | 2. English
Directors: Stephen Sayadian (as Rinse Dream), Mark S. Esposito (uncredited)
Cast: Michelle Bauer, Angel Selby, Becky Savage, Erica Nile, Kim Collier, Marie Sharp, Sue Ravan, Terri Copeland, Andy Nichols, Paul McGibboney
In the aftermath of nuclear apocalypse, 99% of the survivors are sex Negatives - they become violently ill if they attempt to have sex. The minority sex Positives are forced to engage in carnal theater for the entertainment of the Negatives at Café Flesh. Everyone is excited about the arrival at the club of the famous Positive Johnny Rico, and one Negative woman is beginning to question her negativeness as she and her boyfriend grow more distant from each other.
Video: DVDRip, AVI, 640x480, 2426 kb/s
Audio (2 audio tracks): AC-3, 2 ch, 192 kb/s -[1. Russian | 2. English]
Size: 1,45 GB
Download FileBoom.me One Free Link
https://fboom.me/file/75712d9958f71/CafeFlesh.avi
«|» ErOtIc PaGe «|» ErOtIc BlOg «|» HoTiXxX «|» eRoTiC pLeAsUrE «|»