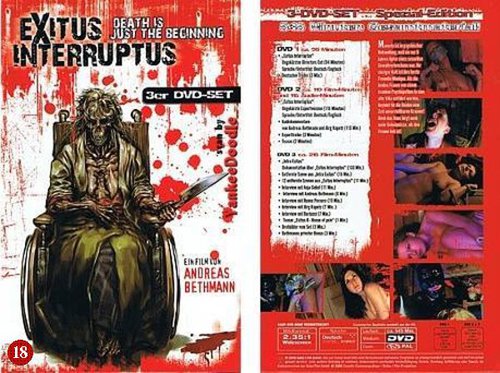 File info:
Category: Explicit Erotic Gore Thriller
Runtime: 1. [01;54;33] | 2. [01;34;33] | 3. [02;12;57]
Country: Germany
Languages: German
ENGLISH Subtitles: "Exitus Interruptus" (embedded) | "Exitus II" (download here) | "Intra Exitus" (no subtitles)
Director: Andreas Bethmann
Starring: Renee Pornero, Anja Gebel, Andreas Bethmann, Mia Magic, Natascha Wetzig
Exitus Interruptus - Der Tod ist erst der Anfang:
Five years after narrowly escaping the clutches of a psycho killer, a young woman once again finds herself abducted and abused - this time by a masked maniac who subjects her to a series of harrowing ordeals.
Exitus II: House of Pain:
2 years have passed since the terrible events in the Exitus House. Sophie, the sister of the murdered Monique, suffers from the fact that her sister's body was never found and the killer never brought to justice. She believes that Monique may still be alive and being held captive the psychopath. After finding out the house has been left unoccupied for 2 years she decides, along with her friend Lena, to investigate the house themselves. They soon find out that the secrets the house holds is far beyond their wildest dreams.
Intra Exitus (Behind The Scenes):
This is the much-sought-after, rarely seen, Disc 3 from the Exitus Interruptus Box Set. It is a 2+hour Behind The Scenes look at the making of Exitus Interruptus, a sleazy German hardcore/gore horror porn by the great Andreas Bethmann. There are no subtitles but there isn't much talking, maybe 2 brief, impromptu interviews, and not enough porn! Its mostly a comparison of how the scene looked on set versus on camera in movie. If you are a fan of the movie Exitus Interruptus, its sequel Exitus Interruptus 2 House of Pain, and/or its prequel Vegtarierinnen zur Fleishelust gezwungen Part 2, you will be fascinated and aroused at the making of this insane movie!
WARNING!!! Movie contains explicit sex and violence scenes. Movie contains а shocking scenes of a sexual nature. Viewing can cause vomiting effect.
Video: [AVI, 720x384, 1696 kb/s] | [AVI, 640x272, 895 kb/s] | [MKV, 640x480, 819 kb/s]
Audio: [MP3, 2 ch, 128 kb/s] | [MP3, 2 ch, 128 kb/s] | [AC3, 2 ch, 192 kb/s]
Size: 1. [1,47 GB] | 2. [700 MB] | 3. [981 MB]
Free DownloaD Links
| FILEBOOM.ME | FILE.AL |
Free DownloaD Links II
| FILEBOOM.ME | FILE.AL |
Free DownloaD Links III
| FILEBOOM.ME | FILE.AL |

«|» HoT pOrTaL «|» ErOtIc BlOg «|» HoTiXxX fOrUm «|» J&M eRoTiC «|»